The History
The House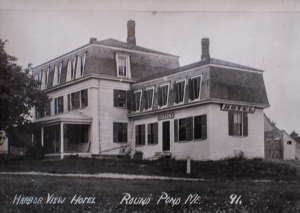 The house was built in the 1830's as a classic colonial two story home. By the end of the century, both a wing and third story, in the popular mansard style, had been added. William Prentice turned the house into the Harbor View Hotel, providing rooms for vacationers and workers in the shipping industry. An early 1900's brochure for the Hotel described it as "situated but a few hundred feet from the landing and offers a pleasant home for those who seek a quiet, restful place at a moderate price". It's rooms, overlooking the harbor, are large and cool and its table is well supplied. In connection with the house is a fine livery stable and teams can be furnished for any and all occasions.
The Village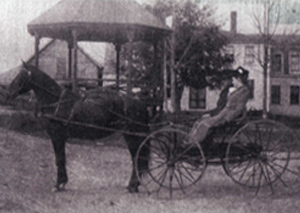 In the late 1700's the Village of Round Pond already had both a sawmill and a shipyard. During the Revolutionary War, it was the collection point for salted beef that was sent to the army. During the early part of the nineteenth century, Round Pond was the home of fishermen, sailors and farmers. In the 1870's a granite quarry was in full operation. During the 1890's the Round Pond Cornet Band was a regular Sunday afternoon event, entertaining the villagers at the village bandstand.
The Harbor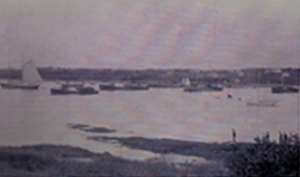 From early on, Round Pond's deep and protected harbor provided ideal conditions for ships of all kinds. Three shipyards were operating in the mid nineteenth century. By the end of the century, the Portland Steamship Company's vessel, "The Monhegan", was regularly making the trip with vacationers to Round Pond. The Hotel's brochure sums up the importance of the Harbor with the following: "Of the many bays and harbors which indent the coast of Maine, none are more beautiful or more favorably situated than Round Pond Harbor and none can offer greater attractions to delight the summer tourist". The large, deep harbor, practically landlocked, is safe to enter at all times and furnishes a retreat for yachts and vessels of all sizes and is just the place for rowing and bathing, while just outside the harbor, fish of all kinds abound.